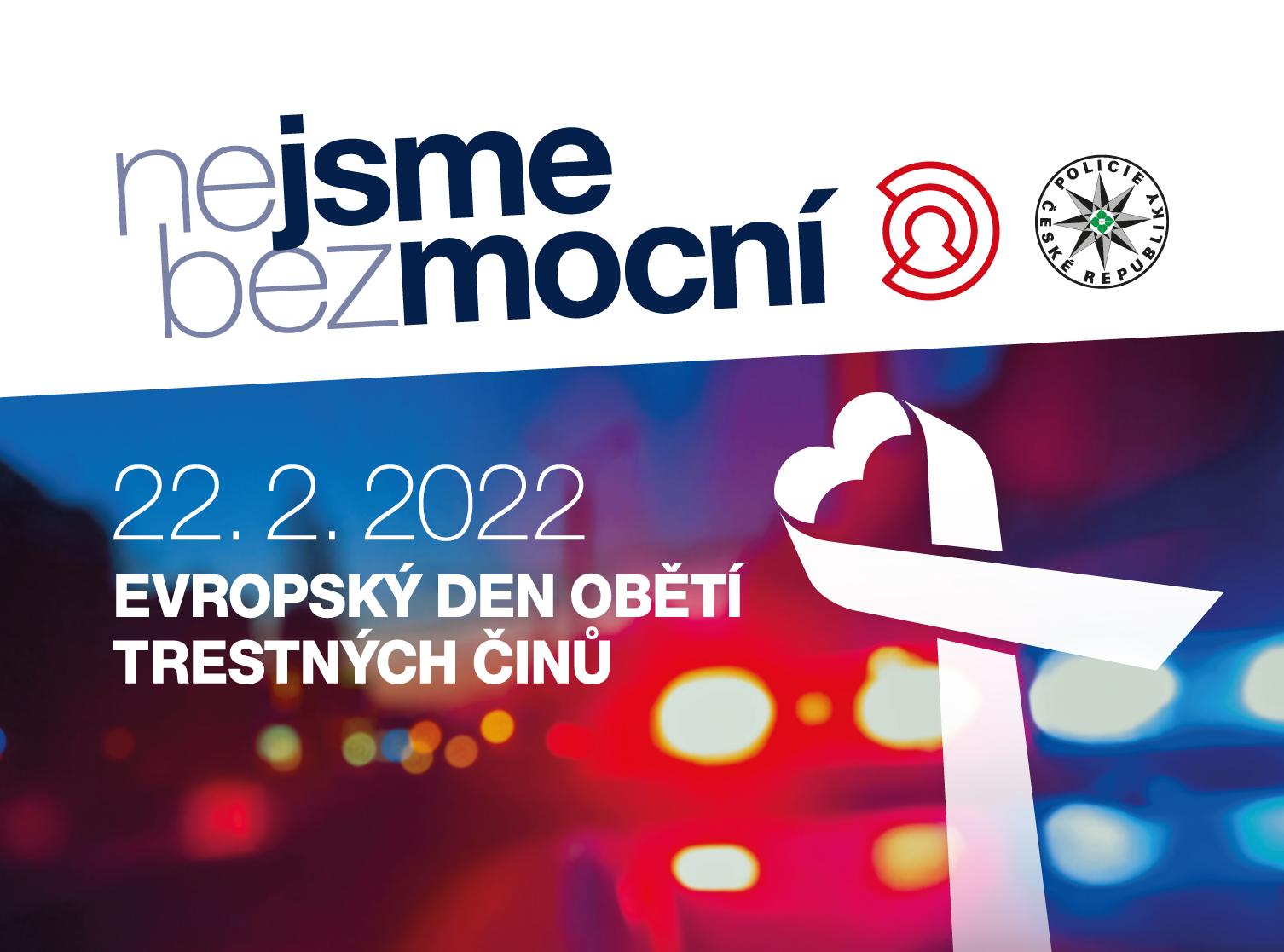 Probation and Mediation Service will commemorate the European Day for Victims of Crime. In cooperation with the Police of the Czech Republic both organizations will pay tribute to victims of crime by hoding a minute of silence on Tuesday 22 February 2022 at noon. In front of the police stations across the Czech Republic policemen will lit beacons of police cars.
The European Day for Victims of Crime marks the signing of the Charter of Victims´ Rights in the United Kingdom in 1990. Its aim is to raise awareness on rights and needs of victims. Probation and Mediation Service have long supported victims of crime in their active effort to cope with difficult life situation and help fight against prejudices. Currently, the victims of crime can ask for help or professional advice in 74 Service Centres across the Czech Republic.
"Last year our Service cooperated with 4,281 victims of crime. Back in 2020 we provided help and support to 4,306 victims of crime. The number of crime victims who need help is not low at all. We encourage you to join us on Tusday 22 February at noon and pay tribute to victims of crime" says Andrea Matouskova, Director General of the Czech Probation and Mediation Service.
"Helping the victims of crime is a major issue for the Ministry of Justice. The European Day for Victims of Crime is a good opportunity to remind that in the Czech Republic we have a large network of professionals to contact, not only state institutions but non-profit organizations as well. In both state institutions like Probation and Mediation Service or the Police of the Czech Republic, and NGO´s you can find professionals who are trained to deal with crisis situations, complement and cooperate with each other. I am very glad that state sector and NGO´s are able to cooperate with each other and provide help to victims of crime," says Pavel Blazek, the Minister of Justice.
The Police of the Czech Republic have long experience in working with the victims of crime. 78 specially equipped interrogation rooms can be found across the Czech Republic. The fist interrogation rooms were built up back in 2004. In 2021, a total of 1,658 acts with victims of crime were carried out in these rooms. The purpose of working in special interrogation rooms is to prevent secondary victimization of crime victims. The Police have put in place a large network of persons providing crisis interventions who if needed are able to provide victims of crime with acute psychological care. 235 trained police officers and psychologist is ready to provide direct crisis intervention. "Every victim has right to sensitive attitude," emphasizes Col. Ludek Fiala, Director of the Office of the Criminal Police and Investigation Service of the Police Presidium of the Czech Republic.
Victims´ rights are guaranteed in the Act No 45/2013 on Victims of Rights. The act defines the status of "particularly vulnerable victims", which include e.g. children, the elderly or victims of domestic and sexual violence, rape, terrorist attack. Particularly vulnerable victims have special rights, such as free legal aid, professional assistance, medical treatment, as well as interrogation of the victim by the same or opposite sex. The Police of the Czech Republic are aware of the vulnerability of victims of crime, and one of its long-term goals is to ensure human and sensitive access to these victims. Therefore, in the past the Police have set up a separate chapter on its website designed especially for people who have encountered crime (https://www.policie.cz/clanek/informace-pro-obeti-trestnych-cinu-a-zasazene -mimoradnymi-Událostistmi.aspx). The Police respect everyone who decides to talk about what happened to him/her.
On this day, a happening in the Atrium Cultural Center in Prague's Žižkov will take place. The screening of the Finnish film Face to Face and the subsequent discussion are intended not only for victims of crime, but also for professionals who come into contact with the victims. Happening organized by the Institute for Restorative Justice will start at 5 pm and is also an example of good cooperation between the state and non-profit sectors.